on June 26, 2012
Anyone else catching that Olympic fever? I have always loved the Olympics, even though I've never tried one iota of the sports involved. Summer or winter. But let's be honest, the Olympics is not about the sports, it's about the athletes. The triumphs and heartbreak. The hard work and sacrifice. The mix of skill and talent and determination that makes these ordinary individuals extraordinary.
I was watching the diving trials this past weekend and in an instant knew exactly where I am in my life. This is one of the perks of getting older – epiphanies. Tiny slaps of reality that illuminate where you are and where you are no longer.
So I was watching these young men on the platform, and the first one walks out. If you haven't seen these divers, their uniforms are, shall we say, slight. So the mind goes to the obvious. "He's an attractive lad." (Yes, I say lad in my mind. That's my story and I'm sticking to it.) And then the announcer says, "This talented sixteen year old…."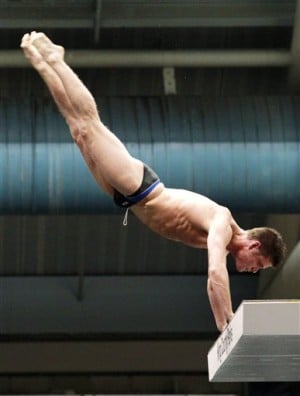 I sat bolt upright. For half a second there was the "I'm a filthy old woman" thought, but the louder thought that followed was way more important. "That child is only three years older than my daughter and he looks like that?!?!" In that instant, I was a horrified mother ready to lock her daughter in the nearest tower. Which ironically might actually be in London. Heh.
There was another diver after that one who was only fifteen. And from Arkansas. Which is where my thirteen year old is right now. At least this child was out of the state at the moment, but what if there are others there just like him?? (The one to the left is NOT the 16 year old. *g*)
Yeah, epiphanies are painful.
In another twist of irony, I will be in Anaheim at the RWA Nationals convention when the games open. Friday night will be all about finding a television and tuning in. (Party in my room. Bring your own popcorn.) Since I'm up for a Golden Heart® award, you could say I'm competing in the RWA version of the Olympics. Before you scoff, think about it. We spend HOURS on our craft. Sacrifice time with our families and friends and pets. Swallow ungodly amounts of coffee and chocolate to keep our stamina up. (Again, that's our story and we're sticking to it.)